Ms. Momoi (モモイ Momoi) is the manager of the supermarket "Niko-niko-dou" where Rin worked part-time. She is, apparently notorious for hazing new hires. She only appears in the anime.
Appearance
She is a short woman with red and yellow hair that stands up in the shape of an afro with butterfly pins. She also wears glasses.
Personality
Strict and always in control, she is a manager who lives up to her job.
She is also shown to be very cheap, as she bought lots of disgusting noodles because they didn't cost much.[1]
Synopsis
True Cross Academy arc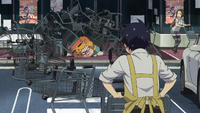 At first she is not sure if she would hire Rin due to the fact that he messes up a lot. She gave him various jobs to complete, which he did complete, but he messed up on all of them and involved his manager in his mess. However, just after she was considering to fire him, she tasted his cooking, then she guaranteed he would be a great addition to the staff. At the end of the day, a Demon (the very first one Demon to be spotted by Rin) steals a child's scarf. He tries to get it back, and bumps into many things inside the store as he chases them. Rin was later fired on the spot for damaging the store.
References