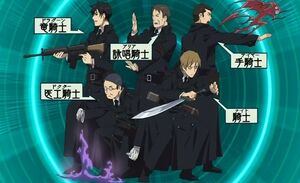 A Meister (職人 Shokunin; lit. artisan) is the classification of an Exorcists primary fighting style, as well as a title given to Exorcists who have achieved proper usage of said fighting style. There are five categories of Meister: Knight, Dragoon, Tamer, Aria, and Doctor.[1]
Selection of and acquiring the title of Meister is essentially the most basic qualification for becoming an Exorcist. Many Exorcists are known to utilize more than one Meister.
Knight
A Knight (騎士 Naito) is a Meister who fights using melee weapons, such as swords or staffs. Some Knights use enchanted Demon blades, which are quite rare and have unique abilities. Other Knights are able to use powerful, long-range magic techniques from their weapon.[2]
Dragoon
A Dragoon (竜騎士 Doragūn) is a Meister who fights using firearms, such as pistols, machine guns, grenades, and bazookas. Some may use specific weapons or special ammunition to exploit the weaknesses of certain elemental demons.[2]
Tamer
A Tamer (手騎士 Teimā) is a Meister who fights by summoning and controlling Demon familiars through use of a summoning circle and a blood contract. To be a Tamer, one must have an affinity for it, a natural talent that few people possess.[3] Controlling familiars requires a strong will and the Demon will turn on their summoner if the Exorcist loses confidence. If the summoning circle is broken, the demon will disappear.
In some cases, a Demon can be contracted to a bloodline, rather than an individual. In this case, the contract and the ability to call on the Demon is passed down through the generations. The family member who currently holds the contract can summon the Demon without needing a summoning circle, and even if they don't have the natural talent normally required to be a Tamer.
Aria
An Aria (詠唱騎士 Aria) is a Meister who fights by reciting verses from the Bible and sacred scriptures. Aria specialize in knowing Fatal Verses which, when recited, exorcise specific Demons.[2] Being an Aria is very dangerous; the sacred verses take time to recite and Demons recognize Aria as their greatest threat.
In addition to Fatal Verses, Aria are able to cast a variety of spells, such as creating a barrier.
Doctor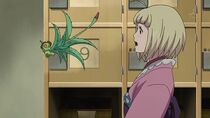 A Doctor (医工騎士 Dokutā) is a Meister who fights using herbs and potions that are poisonous to Demons, or that can heal wounds and illnesses inflicted by Demons, known as mashō. These people typically possess the knowledge of basic first-aid, emergency first-aid, and the ability to treat ordinary injuries.
Trivia
Meister is German for "master". In Germany and Austria it is the highest educational degree for professions in craft and trade.
A dragoon is a type of mounted infantry. They were used in most European armies during the late 17th and early 18th centuries.
References