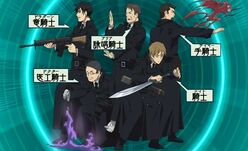 A Meister (職人 Shokunin; lit. artisan) is someone who has the knowledge to become an Exorcist. Acquiring the title of Meister is essentially the most basic qualification for becoming an Exorcist. There are five categories of Meister: Knight, Dragoon, Doctor, Tamer, and Aria. The difference between the categories is their style of fighting.[1]
Knight
A Knight (騎士 Naito) is a Meister who uses swords to fight Demons. Some Knights use enchanted Demon blades, which have unique abilities and are quite rare. Other Knights are also able to use powerful, long-range magic techniques from their blades.[2]
Dragoon
A Dragoon (竜騎士 Doragūn) is a Meister who fights using ranged weapons, such as handguns and machine guns. Some may use specific weapons or ammunition to exploit the weaknesses of certain elemental demons.[2]
Doctor
A Doctor (医工騎士 Dokutā) is a Meister who treats and heals wounds inflicted by Demons, known as mashō. These people typically possess the knowledge of basic first-aid, emergency first-aid, and the ability to treat ordinary injuries.
Tamer
A Tamer (手騎士 Teimā) is a Meister who summons and controls Demons known as familiars. It is a natural talent that few people possess.[3]
Aria
An Aria (詠唱騎士 Aria) is a Meister who fights by reciting verses from the Bible and sacred scriptures. Aria specialize in knowing Fatal Verses which, when recited, exorcise specific Demons.[2]
Trivia
Meister is German for "master". In Germany and Austria it is the highest educational degree for professions in craft and trade.
A dragoon is a type of mounted infantry. They were used in most European armies during the late 17th and early 18th centuries.
References
↑

Ao no Exorcist Manga: Chapter 5, Page 7

↑

Ao No Exorcist Manga: Chapter 5, Page 11
Community content is available under
CC-BY-SA
unless otherwise noted.