Welcome

Hello and welcome to the Ao no Exorcist Wiki, a wiki dedicated to the Ao no Exorcist series by Kazue Katō! We hope you enjoy our stay and help us by making new pages or contributing to the existing 820 pages we have here on the wiki!
Featured Media
OVA 2
Snake and Poison (蛇と毒 Hebi to Doku) is the second OVA for the Ao no Exorcist series. It is part of the Kyoto Saga anime season and is based on the second chapter of the novel Home Sweet Home written by Kazue Katō and Aya Yajima with the same title.
For more information click here.
Recent Manga Chapter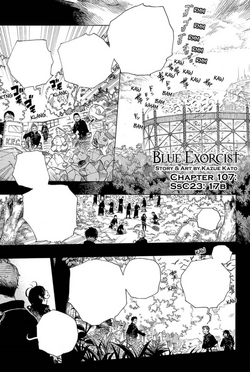 Chapter 107: SsC23:17b
Hey, <insert name here>, spoiler alert! Read at your own risk...please. Also, don't assume that this is a correct translation of the chapter until further notice. Thank you.
---
Satan begins his occupation of Section 13, leading to a month long siege by the [[[True Cross Order]] of their own facility. Yuri discovers the truth of the Order's motivations and resolves to try and save Satan once more.
Read the full summary here.
Ao no Exorcist Websites
Official Sites
General Sites
Affiliates
If you would like to become an affiliate of the Ao no Exorcist Wiki, contact an Admin.
Recent Blogs
Community content is available under
CC-BY-SA
unless otherwise noted.