Kinoshita (木下) is an Exorcist of the True Cross Order. During the Impure King incident, she treated the wounded at the Kyoto Branch.
Appearance
Kinoshita is a young woman with shoulder-length brown hair, held aside by a pink hairclip, and black eyes. She wears the standard uniform of a member of the order. She usually appears with her eyes half-closed, as if she's sleepy.
Personality
Kinoshita seems to be easily confused, being surprised when Rin Okumura came to her looking for work.
Synopsis
She is seen treating a wounded guard when Kuro goes berserk.[1]
In the anime, after Rin's judgement, Kinoshita is among the teachers listening to Mephisto's instructions on how to deal with Rin.[2]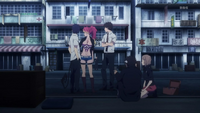 Kinoshita is seen treating Saburota Todo when Yukio and the others come to talk to him.[3]
Kinoshita was one of the exorcists left in charge of healing the masho affected members of the Kyoto Branch office during the Impure King incident. When Rin Okumura came to her looking for work after talking to Adachi, she quickly passed him off on Yamagami.[4]
Powers & Abilities
Doctor: Kinoshita possesses a meister in Doctor, meaning she is specialised in healing demon inflicted injuries and maladies.
References
Community content is available under
CC-BY-SA
unless otherwise noted.