Karura (伽樓羅 Karura), also known as phoenix and Fenghuang (鳳凰 Hōō), is a high-level fire Demon and a kin of the King of Fire.
It is in service of Tatsuma Suguro and the Myōō Dharani until Saburota Todo consumes it.
Overview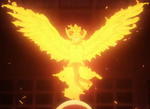 Karura has a form like a bird of fire with a human torso and face within its mouth. It can vary greatly in size, appearing much smaller after Todo swallows his main body. It dislikes humans because people have always sought to capture it for its power.
Powers and Abilities
Karura can control a powerful flame, can stimulate animal cell activity, and possesses a strong life force. As a Demon of Fire, it is strong against Rot, like Impure King,[1] and weak to Water, like Naiad.[2]
Karura Flame (迦楼羅焔 Karuraen):
Aeon Wave Flame (劫波焔 Gouhaen):
Trivia
Fenghuang are Chinese mythological birds, also known as Chinese phoenixes.
References
↑

Ao no Exorcist Manga: Chapter 27, Pages 9-10

↑

Ao no Exorcist Manga: Chapter 28, Page 14
Community content is available under
CC-BY-SA
unless otherwise noted.