Jean, Groom Version
(
ジャン 花婿Ver
Jan Hanamuko Bājon
) is a
Galatea
and
Nemu Takara
's familiar. He is a fashion doll (
着せ替え
Fasshon Dōru
) from the
Mika Friend Series
(
ミカフレンドシリーズ
Mika Furendo Shirīzu
).
Appearance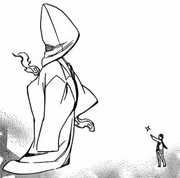 Jean appears as a miniature man dressed in a white suit with styled light coloured hair.
Personality
Jean seems to possess virtually no personality, but does charmingly ask the Transvestite Ghost to marry him. [1]
Synopsis
True Cross Academy Festival arc
Whilst investigating the Seven Mysteries of True Cross Academy, the Exwires encounter the ghost that is the subject of the first mystery. After the abysmal failure of the others to deal with it, Takara steps in, summoning Jean, who easily quells the ghosts regrets.[2]
Powers & Abilities
Human Speech: Jean possesses the ability to communicate in human speech.
References
↑ Ao no Exorcist Manga: Chapter 40, Page 30
↑ Ao no Exorcist Manga: Chapter 40, Page 29-30
Community content is available under
CC-BY-SA
unless otherwise noted.