The Grigori (三賢者 Gurigori) are the Supreme Advisors to the True Cross Order.[1]
History
The Grigori have led the True Cross Order since its inception, consisting of two of the Sol, Shemihaza and Armumahel and one of the Demon Kings, Azazel who taught humans how to combat demons.[2] Unlike the Demon Kings who took over new hosts as their old ones decayed, the three returned to nature, allowing others to represent them in person.[3][4]
Synopsis
Training Camp arc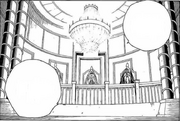 The Grigori first appear within the Opera Courthouse to preside over the trial of Mephisto Pheles.[5] After hearing his reasoning for training Rin Okumura, they ultimately decide on a conditional release of the pair.[6]
In the anime, it is revealed that Ernst Frederik Egin, having taken the office of pope, also deposes the Grigori as the de facto leader of the True Cross Order.[7]
The Grigori appear once more at the round table conference between themselves, Mephisto, Arthur A. Angel the Paladin and the four Arc Knights, Drac Dragulesc, Lewin Light, Lucy Yang and Osceola Redarm.[8] Ultimately, they hand down the edict to increase the number of Exorcists as quickly as possible.[9]
The Grigori are present for the Exorcist induction of both Shiro Fujimoto and Yuri Egin.
Later, during the Blue Night, the current members of the Grigori suffer attacks by Satan attempting to possess them which ultimately ends in failure. Afterwards, at least one of them retires from their position.
Shemihaza and the Grigori guard appear as part of Mephisto's reinforcements to combat Satan and the Illuminati.[10]
Trivia
The Grigori are a group of angels known as Watchers.
References