Demons (悪魔 Akuma) are beings that live in Gehenna, and are consistently found in conflict with Exorcists who aim to protect humans from their influence. Satan is considered to be the God of Demons due to his immense power and his rule of Gehenna.[1]
Overview
Demons are beings that live in Gehenna, a world of nothingness that faces Assiah like a mirror. Ordinarily, Demons would be unable to make any sort of contact with the people of Assiah, however, by possessing whatever they can in Assiah, Demons can pass over into that world. This can range from humans,[2] to plants,[3] to the very dust particles in the air.[4] Their manner of possession varies; for instance, some Demons find their way into the hearts of humans by preying on their emotional instability.[5][6] The only way to remove a Demon from Assiah is to exorcise it, which can be done by slaying it,[7] reciting its fatal verse (provided one exists),[8] or by allowing the Demon to remove any lingering attachments it has to the material world, as is the case with ghosts.[9]
Demons have two major weaknesses: their tails and their hearts. It is considered proper manners for a Demon to hide both their tail and their heart, as if the latter is destroyed, the Demon will die. Ironically, for a Demon to release its full power it must reveal its heart, which in turn makes them extremely vulnerable.[10]
Classifications
Most Demons are classified by their affiliation with one of the eight Demon Kings of Gehenna, and are referred to as being that King's "kin."[11] The Eight Kings (八候王 Hachi-Kōō; lit. "Eight Assisting Kings"), or Ba'al (バール Bāru), are as follows:
Besides the Kings, there are "Emperors" (皇 Ō) called the Sol (双星 Sōru; lit. "Twin Star"). After their incarnation, they joined with humans and engendered the Nephilim, in order to teach humans how to fight demons.[22]
Galatea
A type of demon created by a Tamer. By forcing a demon to possess a certain object, they may animate said object, granting it sentience and supernatural power.
Elements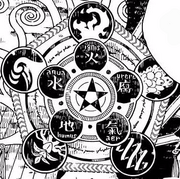 The Demonic Elements Chart maps out the relationships among the five main elements of demons: Fire, Rot, Air, Earth, and Water. Following clockwise, the circle shows a cycle of overcoming; for example, Water overcomes Fire,[23] which overcomes Rot.[11] Elements on opposing sides of the circle are said to get along with each other; for example, Air with Water and Fire.[24]
References
Community content is available under
CC-BY-SA
unless otherwise noted.