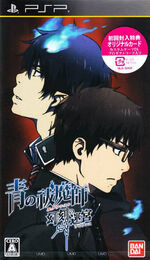 Blue Exorcist: The Chronocyclic Labyrinth (青の祓魔師 幻刻の迷宮 Genkoku no Rabirinsu) is a PSP game produced by Namco Bandai, based on the anime and manga of Blue Exorcist.
It was released April 26th, 2012 in Japan, and came in two editions: a regular edition and a limited edition entitled the "Blue Flame Box" edition, which came with an original drama DVD, a character booklet, a clear postcard with the cover design signed by Kazue Katō, and a paper craft cutout figure of Kuro - all housed in a cardboard box. First pressings of the game came with an original card in the game case which held a download serial code for a PSP theme.
A trailer was released for downloads in the PlayStation Store in early April 2012, showing gameplay and story elements.
The game featured an original story with the following plot:
Birthed between Satan and a human priestess, Rin and his brother Yukio are destined for great things and terrible dangers. Enter the school for the exorcists, deepen the bond between the brothers. Your final aim is to create a world where Demons can coexist with humans, so start off in school. Become friends with your classmates, and fight Demons that come across your path together.
Game Screenshots
Trailer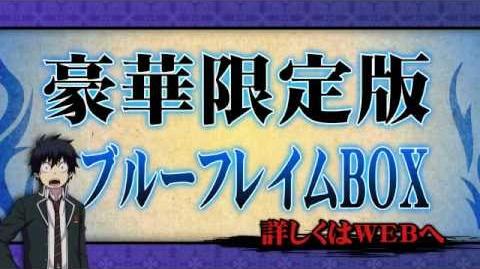 External Links
Community content is available under
CC-BY-SA
unless otherwise noted.