Astaroth (アスタロト Asutaroto), also known as The King of Rot (腐の王 Kusa no Ō), is one of the Eight Demon Kings.
Appearance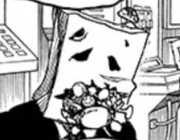 Astaroth looks like a possessed human wearing a dark suit. He covers his head with a paper bag, from which mushrooms are sprouting from the top and the mouth. That mask makes it impossible to know how old his body is. Years later, when appearing in the modern day, he no longer seems to have a human vessel, instead merely appearing as a patch of demonic mushrooms, one of which having four eyes.[1]
Personality
Very little has been seen of Astaroth's personality thus far. He is a demon of few words. Upon meeting Satan, Astaroth bows to him, as Lucifer pledges their allegiance to their father. He will loyally follow and serve the Demon God.
Synopsis
Being on Lucifer's side, Astaroth works for Illuminati, though the extent of his contribution is unknown. When Satan arrives to Section 13, Astaroth is waiting at Lucifer's side with Iblis and Egyn. During the month long battle between the exorcists and Section 13, it is impied Astaroth fought off against the exorcists to protect Satan's resting place.
Astaroth arrives with his other siblings to support Lucifer during Satan's revival in Assiah.[2]
Powers & Abilities
He is a powerful Demon capable of possessing humans. Being the Demon King of Rot, he has control over all Rot demons, including Coal Tars, Ghouls, and demonic mushrooms.
Trivia
Astaroth, in Demonology, is a Demon of the First Hierarchy, who seduces by means of laziness, vanity, and rationalized philosophies.
In the anime, the demon that possesses Reiji Shiratori introduces himself as Astaroth, while he doesn't have a name in the manga.
Quotes
References