The Academy Seven Wonders arc (学園七不思議 Gakuen nanafushigi) is the fifth arc of the Blue Exorcist series.
Following the events at Atami Sunrise Beach, the students of True Cross Academy prepare for an annual festival.
Summary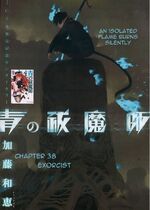 Rin Okumura notices that fellow non-Exorcist classmate Sei Godaīn can see demons and does his best to comfort him.[1] Meanwhile, Arthur A. Angel and Lewin Light arrive in Yemen to deal with the revived Impure Princess.[2]
Mephisto Pheles reveals his true identity to Rin Okumura during dinner at his estate atop True Cross Academy.[3] Arthur A. Angel and the Angelic Legion make a frightening discovery during their investigation at a facility in Russia.[4]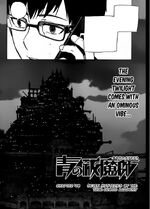 The Exwires are given a task to uncover seven mysteries of the academy.[5] On their first task, only the boys are allowed to participate in the exorcising of a Ghost.[6]
The Exwires continue on with the second part of their task, exorcising another Ghost. This time however, only the girls are allowed to participate.[7] Meanwhile in Russia, Mephisto Pheles seals the Particle Accelerator using Er Stopfen. He then explains to the Angelic Legion that this will only slow the gates spread for four to five months.[8] Lewin Light then concludes that only one organization could have made the gate: the Illuminati.[9]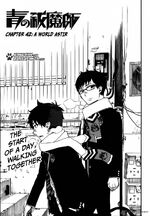 The Exwires are tasked with the third and fourth parts of their task to uncover the seven mysteries of True Cross Academy. First being exorcising a type of low level Demon that is possessing statues of Mephisto Pheles.[10] The task afterwards has them dealing with a "deserted streetcar", which is seemingly a street car that has been possessed by a Demon.[11]
At the start of the chpater, Rin Okumura see's that Sei Godaīn has returned to school. Godaīn comments that the last time he saw Rin, that it looked like he had a tail. Rin then reveals to him that he is a half demon and that he is trying to acquire the magical Demon Eye Wash to relieve him of his plight.[12] Later, Mephisto Pheles acts as a substitute for Yukio Okumura. He reveals two out of the three remaining mysteries and leaves the Exwires to deal with the last. [13]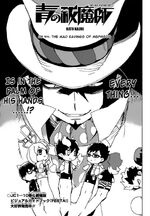 As the chapter starts, Mephisto Pheles stands in a pitch black room, rambling about the differences between humans and Demons.[14] He then observes the questioning of Yukio Okumura by the True Cross Order.[15] Later, he observes Sei Godaīn telling Rin Okumura that he did not use the Demon Eye Wash and his reasons why. He is then questioned by Amaimon on why he treats humans as he does, to which he rambles once again before fading back into the darkness.[16]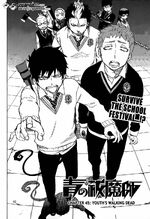 The planning begins for the True Cross Academy festival. [17] Eventually, it gets pointed out to Rin Okumura that there is a music fest on the second night of the festival for students, but entry requires students to come as a couple. [18] This causes Rin as well as many of the other students to panic, causing them to virtually exhaust themselves asking any and every female classmate they can think of to accompany them to the music fest. [19]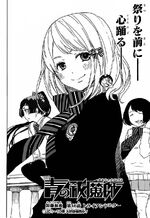 The chapter starts out with Yukio Okumura getting asked to go to the student dance by a group of girls to which, he turns them down.[20] Shiemi Moriyama talks with Noriko Paku and Izumo Kamiki about the dance.[21] before Rin Okumura barges in, wanting to talk to Shiemi about going with him to the dance.[22] She tells him that she is going to ask Yukio to go with her, which completely dashes Rin's hopes.[23] Later, Shiemi asks Yukio and he turns her down as well.[24]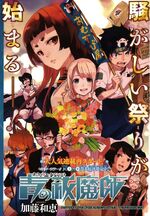 Shura Kirigakure holds a meeting with all of the Exorcists in the patrol squad about the festival and is told during it that a spy had been captured.[25] Meanwhile, the Exwires and their classmates at True Cross Academy finalize their preparations for the festival.[26] Mephisto Pheles then declares the festival open and heads off to partake in some of the festivities.[27] Later, Rin Okumura encounters Shiemi Moriyama after being released to go enjoy the festival. They make up and Rin asks her to the dance. On the way in, they encounter Yukio Okumura working and end up pulling him into the dance along with them.[28] Izumo Kamiki then begins to have 2nd thoughts about blowing off Rin's request and ventures out, only to encounter Nemu Takara holding her sister's (Tsukumo Kamiki) stuffed animal.[29]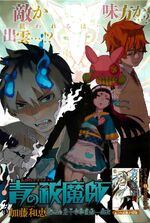 The chapter opens with Izumo Kamiki asking Nemu Takara if he is with the Illuminati.[30] Arthur A. Angel and Lewin Light continue their interrogation of the spy, whom reveals that they are locked in the room they are in so they can't interfere. Lewin says he knows that was his objective before a team of Exorcists breaks the lock on the door. Lewin then asks the spy what their true objective is and he reveals that it is to kidnap Izumo.[31] Shura Kirigakure is informed of the situation and sends everyone out to look for Izumo, while Nemu Takara leads her to a safe place so they can talk.[32] Nemu tells Izumo that Tsukumo Kamiki is fine and he is there to monitor everyone and make sure she is turned over to the Illuminati properly.[33] The two then enter a skirmish with Renzo Shima charging in after a short time to seemingly defend Izumo.[34] He then summons Yamantaka, and battles with Nemu, eventually overpowering him and defeating him.[35] Nemu then begins to get back up and Izumo say that she will go find help. Just as she turns away, Rezno uses Flame-Tipped Vajra Spear on her, knocking her out cold, commenting that "The Boss" wold be angry if anything happened to her.[36] He picks her up, asking her for forgiveness right before someone yells out asking if he is the Illuminati spy.[37]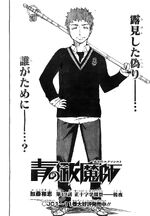 Renzo Shima is revealed to be the Illuminati spy.[38] Lucifer arrives at True Cross Academy and delivers a declaration of war against the True Cross Order before leaving with Izumo Kamiki. [39] Mephisto Pheles orders Yukio Okumura and the Exwires to rescue Izumo.[40]
References